Introducing The New Stand Alone Toilet Alarm
Ensuring the safety and security of your patients, visitors, customers, and employees is a top priority. However, one area where safety is often overlooked is in areas such as disabled bathrooms and toilets, recovery rooms and sick bays. For a long time, this was simply because quality emergency call point systems were too expensive, especially if you only needed one or two call points. Our new stand alone toilet alarm solves this, enabling cost-effective access to a top quality product.
"Having an exclusive partnership with renowned Nurse Call provider Advance Care allows us access to world-class products like this," says Greg Angell, Managing Director at Security Specialists. "Originally designed for the aged care and retirement home sector, we're already seeing significant interest from places like schools, medical centres, and offices who have been calling out for a solution like this for some time."
Users of disabled toilets and the like can now feel confident that assistance is only a call away in case of an emergency.
Simple to use
The silicone emergency call button on the toilet alarm is large and easy to activate, providing a positive tactile response when pressed. This feature makes it ideal for users with restricted or limited movement. The visual support of the alarm promotes independence and safety, with users reassured that assistance is only a call away.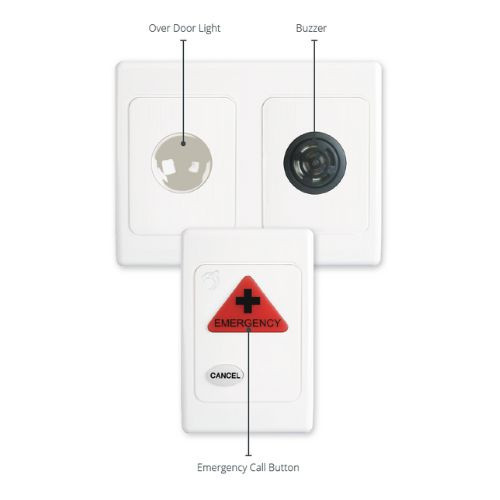 Easy to set-up
The toilet alarm is easy to set up and install. We will programme each unit for you and then send them out ready to install. All you have to do is connect them up. All call buttons are intelligent; there is no master or slave, allowing each button to function autonomously. These don't have to be connected to any other system but can be, if needed, via a low-level integration.
Features
Soft touch operation.
Hard-wearing and washable.
High visibility reassurance.
In-built backlight adjustability.
Outside door buzzer support.
Piezo buzzer reassurance.
RJ45 connection.
Multiple use cases
And, as we said, it's not just disabled toilets and bathrooms we're seeing this used in; it is ideal for many circumstances, including, public toilets, recovery rooms, sickbays at schools, and isolated work locations.
This new stand alone toilet alarm is an essential investment in the safety and security of your patients, visitors, customers and employees. Its ease of installation and use and versatility provide peace of mind, making it the ideal solution for any business or facility.
Interested in how this could work for you? Get in touch with our team today.